SKALE Network
2021-02-10 | CryptoCurrency.org
SKALE is an open source elastic blockchain network that gives developers the ability to easily provision highly configurable fully decentralized chains. On 12 February, the SKALE network price is $0.3057 USD with a 24-hour trading volume of $101,101,374
What is SKALE Network?
SKALE serves as a security and execution layer that connects with Ethereum and is deeply integrated into the Ethereum Network. SKALE uses the $SKL token; $SKL is a hybrid use token which represents the right to work in the network as a validator, stake as a delegator, or access a share of its resources. The network grows linearly to support thousands of independent blockchains that are all tied to the Ethereum public mainnet and fully compatible with the entire Ethereum ecosystem.
SKALE Network launched its phase 1 mainnet on June 30, 2020 after a successful incentivized testnet that ran with no downtime for 2 months. Nearly 4,000 participants from 90 countries participated in a 10X oversubscribed sale of $5 Million of SKL tokens.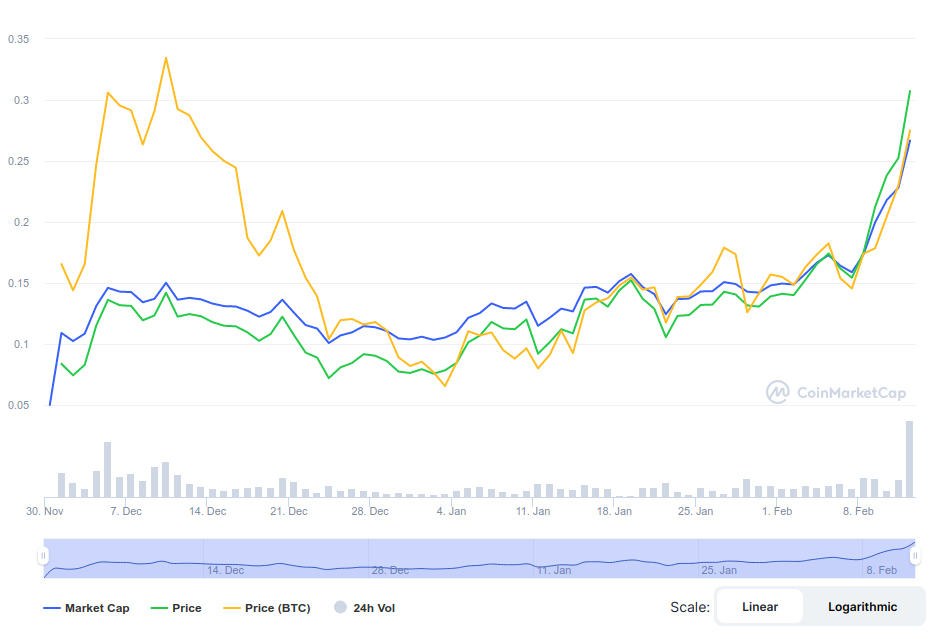 source: coinmarketcap
Where can you buy SKALE and how many coins are in circulation?
There is a growing list of exchanges that support the sale or purchase of $SKL tokens. The first to list are Huobi, Binance and Uniswap.
On December 1, 2020, the circulating supply at token unlock was 564,166,667 SKL. Tokens for the core team and early supporters are locked in a long term vesting schedule. Additionally, SKALE has released further information in their onesheet and their unlcock schedule.
Why is SKALE unique?
SKALE's elastic sidechains' main benefits are increased transaction throughput, faster transaction finalization, and reduced transaction costs resulting in an improved user experience and a more sustainable economic model. Additionally, SKALE chains include increased storage capacity and greater transaction processing control. The use of sidechains can also aid the development process by accelerating app development and the introduction of new features; furthermore, an execution layer solution like SKALE is explicitly effective for building and scaling Ethereum-based applications with an expanding spectrum of use cases.
How secure is SKALE network?
SKALE network uses a pooled validation model that leverages the security advantages offered by a large number of validator nodes by combining random node assignments with frequent node rotation among the validator sets. Additionally, each validator must stake a significant amount of value into the network via a SKALE token. Sidechains are also resourced and provisioned by users via a subscription model that also makes use of the SKALE token.
The SKALE Network is a custodial execution layer (Layer 2), which makes use of BLS signatures, deposit boxes within the Ethereum mainnet, and other mechanisms to allow for custodial ownership and use within the network. While other Layer 2 models attempt to use mainnet interactions to run verification and/or fraud proofs, SKALE uses the Ethereum mainnet for staking and for other critical operations - this method is better tuned for the creation of a robust and fully decentralized security and execution layer.
Who are the people behind SKALE Network?
SKALE Network's co-founders are Jack O'Holleran and Stan Klakdo. The former is a veteran entrepreneur with a deep background in machine learning, AI, security and blockchain with multiple Silicon Valley based enterprise technologies under his belt as founder. Klakdo has almost 2 decades of experience in cryptography and enterprise infrastructure technologies - has founded several Silicon Valley venture-backed startups and was a key early member of the Java Virtual Machine team. He founded and ran a US government certified crypto lab for 7 years, working with the NSA and other agencies.
Enjoy reading? Please share: