The year 2020 for Bitcoin
2021-01-22 | CryptoCurrency.org
Over the past couple of years, a range of Wall Street investment firms and financial institutions have gravitated toward cryptocurrency. They are still far from fully embracing it, so they have been just dipping a toe in by putting a sliver of their asset
In December 2020, Coindesk confirmed that UK-based asset manager Ruffer had accumulated around £550m of bitcoin since November, representing some 2.7 per cent of the firm's AUM. Ruffer's investment is now being interpreted as the beginning of a major portfolio diversification trend into bitcoin, and furthermore, it seems institutional money can no longer afford to ignore the existance of alternative currencies. Bitcoiners are understandably overjoyed; also, price moves since certainly could be indicating some sort of pragmatic acceptance of bitcoin in investment circles: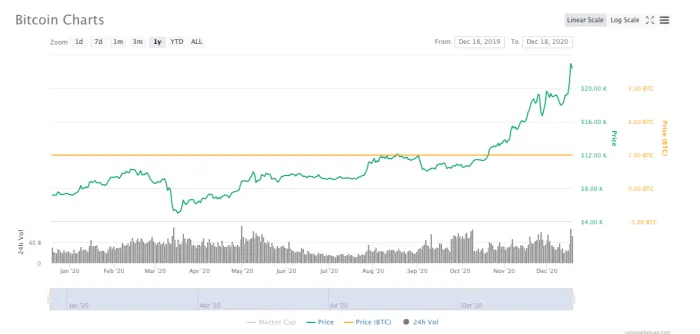 source: Coinmarketcap.com
Big banks warming up to Bitcoin?
Goldman Sachs in August named a new head of digital asset, while JPMorgan last year launched JPM Coin, which is an internal digital token for use by the bank's institutional clients, which runs on the Quorum blockchain that JPM developed and is overseen by JPM's blockchain unit Onyx. Even Wall Street figures soften their rhetoric on Bitcoin - in May, hedge fund titan Paul Tudor Jones revealed he has put nearly 2% of his portfolio into bitcoin; futhremore, billionaire investon Sten Duckenmiller revealed that he owns some Bitcoin and expects Bitcoin to probably "work better, because it's thinner, more illiquid and has a lot more beta to it."
Bitcoin's volatility in 2020
Back on June 6, 2011, Bitcoin was worth a mere 8 USD on the market. At the time there was great disillusionment with the workings of the core financial system thanks to the global financial crisis. It certainly has come a long way since then, but still: in 2020, that volatility factor has not gone away and remains bitcoin's biggest nemesis with respect to wider public adoption (especially as a form of money).
A timeline of Bitcoin price
The price of Bitcoin rose from a low of less than $4,000 in March to surpassing $20,000 in December of 2020. Let's see how we got here:
March panic - the COVID 19 virus managed to introduce a ban on travel from Europe by the United States in early March. On March 12, the Dow Jones Industrial Average, which is a widely-used measure of performance of the strongest American companies, fell by more than 10% in a single day, This was the largest drop since Black Monday in 1987. Investors swapped cryptocurrencies alongside other assets for cash to preserve portfolio value.

bitcoin halving - in May, Bitcoin saw its third 'halving'. CoinMarketCap, a cryptocurrency data portal, recorded 63 billion trades on the day before the halving, the fourth-most active period of the year, as dormant (and new) investors set their plans into motion. (Halving: a technical event that reduces the reward for 'mining', i.e. the process of bitcoin creation. During these occasions, trading activity usually increases.)

after the summer of Defi - A number of institutional investors have backed Bitcoin as an asset to watch. A milestone event during this period took place on October 21, payment giant PayPal offered users the option of buying (fractional) bitcoins shortly after Square (co-founded by Twitter CEO Jack Dorsey), a smaller rival, purchased $50 million of bitcoins - this led to a stellar 74% rise in value over less than 50 days.

december milestone - on December 16, Bitcon passes $20k for the first time, leaving 2017's all time high price behind. Bitcoin's price soared in 2020 during the coronavirus pandemic as investors have found Bitcoin more and more attractive as the US dollar weakened.
Conclusion
Bitcoin is yet to prove itself as more efficient or user-friendly than the conventional fiat currencies, but it is no longer possible to deny its overall resilience. As much as critics of Bitcoin - or cryptocurrency in general, for that matter - dislike to admit it, the fact the system is still standing, even if not flourishing by some people's measures, signals that Bitcoin is here to stay.
Enjoy reading? Please share: