What Is yearn.finance?
2021-01-29 | CryptoCurrency.org
Yearn.finance is an aggregator service for decentralized finance (DeFi) investors, using automation to allow them to maximize profits from yield farming. On January 18th, 2021, yearn.finance was $38,259.61 USD with a 24-hour trading volume of $956,698,65
What Is yearn.finance?
Launched in February 2020, yearn.finance is an aggregator service for decentralized finance (DeFi) investors, using automation to allow them to maximize profits from yield farming. Their main goal is to offer services to investors who are not necessarily technically minded or who simply wish to interact in a less committal manner than serious traders. The service originally started out with the name iEarn; it has seen huge growth in recent months as new products debuted and developers released in-house token YFI.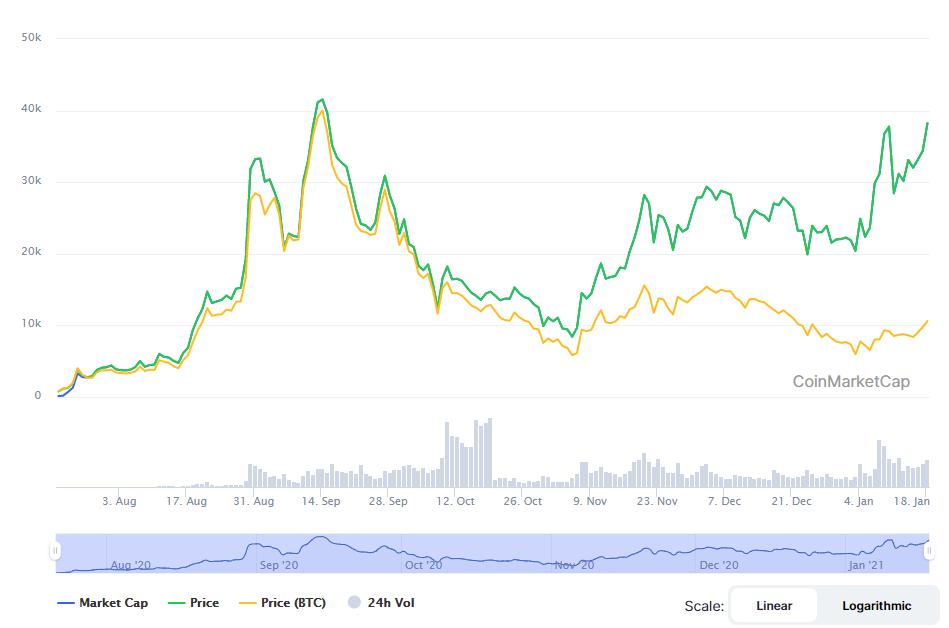 forrás: coinmarketcap
How secure is the yearn.finance network?
The founder himself has sought to maintain transparency about the platform's provenance. However, he notied that even after code audits, yearn.finance could not be guaranteed to be 100% safe, since DeFi involves inherent risk. Furthermore, yearn.finance users can face a high risk of losing money due to market conditions changing rapidly and, odditionally, thanks to the pportunistic entities who keep attempting to profit from less-experienced participants.
Where can you buy YFI and how many coins are in circulation?
YFI is a freely-tradable token, with pairs for cryptocurrencies, stablecoins and fiat currencies all widely available as well. Major exchanges trading YFI include Binance, OKEx and Huobi Global, as well as automated market maker (AMM) Uniswap Yearn.finance in-house token YFI has a fixed supply of 30,000 coins. There was no premine when it launched in July 2020; neither did the developers receive any starting funds. The majority of the capped supply has entered circulation since then, and the success of the token is reflected in its all-time high price of $41,000, which it hit in mid-September 2020. YFI was also the first cryptocurrency to become worth more than Bitcoin (BTC) per unit.
The main method of earning YFI is through providing liquidity - meanwhile, token holdings dictate governance privileges.
Why is yearn.finance unique?
The platform makes use of various bespoke tools to act as an aggregator for DeFi protocols such as Curve, Compound and Aave The aim is to bring those who stake cryptocurrency the highest possible yield, while yearn-finance also wants to simplify DeFi investment and activities such as yield farming for the broader investor sector. The target market for yearn.finance is mainly investors who do not have the time to study complex DeFi systems from the basiscs, or who wish to optimize their returns.
New features keep rolling out while yearn.finance makes a profit by charging withdrawal fees. These fees were .5% at the end of September 2020, as well as 5% gas subsidization fees. Due to its governance model, these can technically be changed by consensus at any time.
Who are the people behind yearn.finance?
The creator of yearn.finance is Andre Cronje. Cronje has a long career in cryptocurrency and has become synonymous with DeFi in particular. He also has positions at smart contract ecosystem Fantom and CryptoBriefing, a resource dedicated to initial coin offerings (ICOs) and crypto media.
After leaving the iEarn project in February 2020, Cronje returned to oversee a rebirth, with new tools emerging and YFI going live in July 2020. Since then, the assets under total value locked had been coming in at just over $1 billion as of the end of September 2020.
Enjoy reading? Please share: